Tollymore Forest Park – River Trail
Having descended the Azalea Walk to the Shimna River, the trail turns upstream along the attractive tree lined river bank past the Hermitage to cross the river at Parnell's Bridge. The 10 metre cascade fall is most spectacular.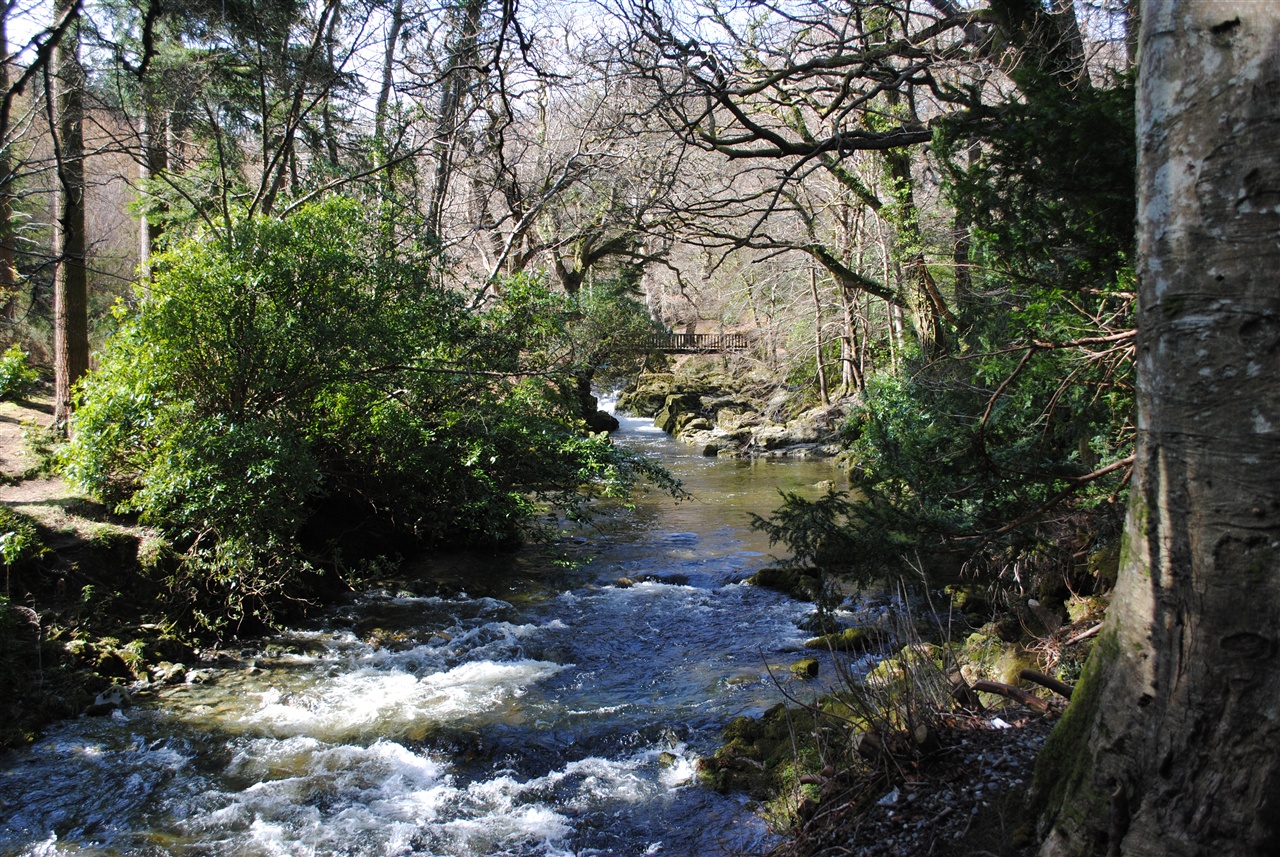 County Down
Distance 3.3 miles
OS Map Sheet 29
Terrain Easy off-road paths
Nearest Town Newcastle
Route Shape Circular
Grid Reference J343325
Route Type Forest, Riverside, Woodland
Route Description
Follow the red waymarker arrows from the car park.
Down the Azalea Walk towards the Shimna river to the Hermitage this trail passes through both conifer and broadleaved woodland before crossing the Shimna at Parnell's bridge.
Dramatic views of the Pot of Legawherry can be seen from the trail. There is an optional spur to the White Fort Cashel before following the Spinkwee River downstream, past the cascades and back to the Meeting of the Waters.
The trail proceeds through conifer plantations, past the duck pond and crosses the Shimna River over the Old Bridge, returning to the car park via the Green Rig.
Trail Features
Steps, gullies, tree roots
Moderate gradient (1:4)
Generally undefined edges
Overhanging branches
Broken surface material
Some rest areas at irregular intervals
Way-finding markers at trail junctions
Distance to go Markers at trail junctions
These walks are situated in a working forest environment and may be subject to diversion and closure from time to time.
Up to date information is available on the Forest Service web site – link below.
Getting to the start
Signposted from Newcastle. Take the road to Bryansford and the entrance to Tollymore Forest Park is on the left.
Facilities
Car park (fee charged), toilets (disabled access), picnic areas, camping and caravaning, electronic 'In-Touch' information kiosk, way-marked/ nature trails, guided tours available.
Accessibility Grade
Grade 5
There may not be a formalised path, and variable, single file trails are to be expected.
Gradients and cross slope could be expected to be steep and not limited.
Obstacles and surface breaks of greater than 75mm measured across the line of the path to be expected.
Overhanging branches are possible. Passing places and rest areas may not be formalised or provided.